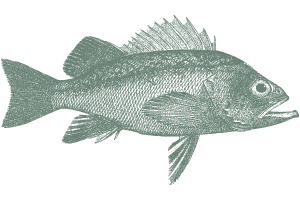 New Fishery Allows Rockfish Harvest
Recently, Oregon Department of Fish and Wildlife, along with the help of the charter boat fleet, have developed a new fishery that gives people an opportunity to harvest some delicious rockfish that were previously off limits. This fishery targets mid water rockfish species such as Yellowtail and Canary rockfish.
We travel off shore and target them with special gear that involves a unique tackle arrangement to keep the gear off the bottom and out of the reach of the Yelloweye Rockfish, whose numbers are down along the Oregon coast.
Mix and Match Your Catches
Our Rockfish charter setup is usually very productive and three fish can come over the rail at a time. We use electric reels for these deep drops and it makes short work of the laborious cranking from the depths, but if you want to work for it we will rig you up on standard tackle. The limit is ten rockfish in this fishery and the filets are perfect for fish tacos. These trips can be combined with salmon fishing when the season is open and crabbing is offered as well when crab are present in good numbers. This makes for a productive day on the ocean and a mixed bag for the grill!