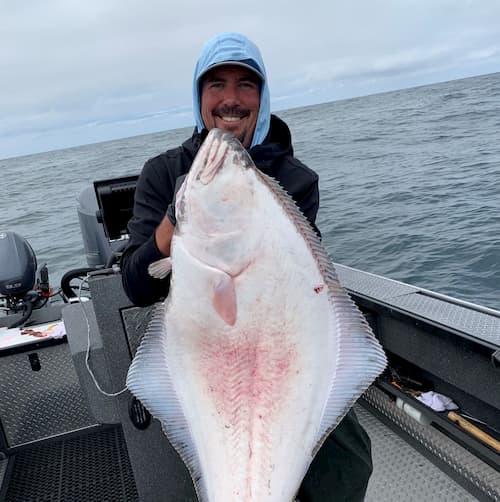 Both new and seasoned Halibut fisherman dream of the oversized flatfish and the bounty they provide, and experienced fishermen know how much work it takes to bring home their "white gold" flesh. Before embarking on a Halibut fishing trip, it is important to understand the nature of this fishery.
The most productive Halibut fishing takes place offshore during the spring and summer. Each year the Pacific Fishery Management Council, International Pacific Halibut Commission, and local governments set quotas for the entire West Coast and set seasons based on perceived abundance. Once seasons are set, we begin to book our schedule. Typical season limits allow for fishing on only Thursdays through Saturdays and a limit of one fish per person.
Trips to the Halibut grounds can be long, and sometimes we have to buck the swells for miles on end. Once we arrive, we prepare to make drifts over large areas in deep water with heavy leads that can weigh up to four pounds! It takes diligence on the angler's part to pay out line to stay in contact with the bottom and to notice bites from not just halibut but other bottom dwellers who are out to steal your bait. Paying attention is key so that if you are picked clean you can bring it up, rebait and stay in the game.
Staying patient and persistent is important in this fishery. Halibut can be picky when they eat, sometimes lock jawed, other times going wide open on the bite. Sometimes we show up on the grounds and the bite is on, yet some days we wait and wait all day before any bites happens.
Once you have the telltale buck of the rod, usually a couple of cranks on the reel is all you need to set the hook before the slow climb to the surface begins. With a limit of one fish per person, anglers can be choosy, and want to return smaller fish for the chance at a bigger one. We never make anyone take their first fish and want to make sure to give you a chance at a trophy. We always advise people that they can go off the bite at any time, so that could be your only chance for the day.
Once home with the catch, people are often amazed at the amount of flesh on these fish. After working so hard to get them on board, we take extra care of the fish for you and to do the fish justice. It is a matter of respect for the fish and the gift they are for the intrepid angler.
Book your halibut adventure with Chad today to try your hand at this rewarding fishery.