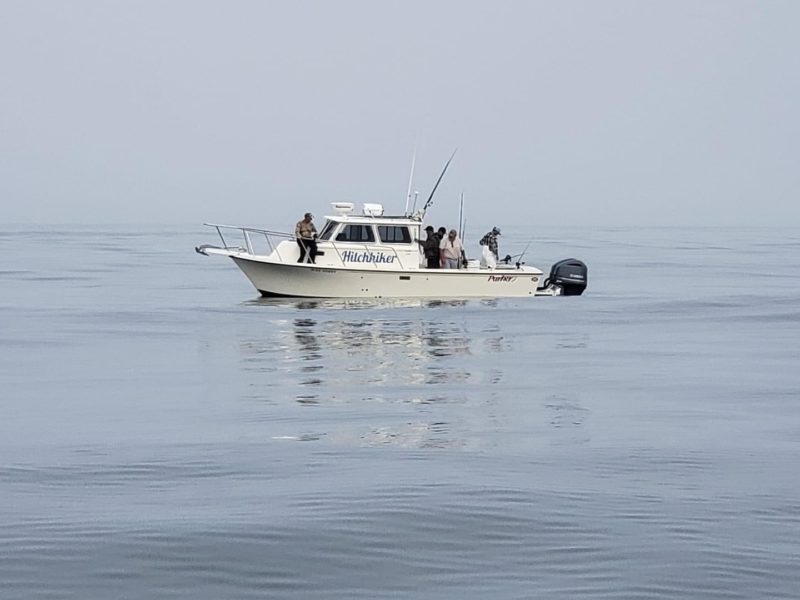 She is a 2003 Parker 2830 re-powered in 2017 with a pair of Yamaha 250hp outboards. At 9'6" at midships and 35' overall, she is going to provide a quick smooth ride out to where the big fish live.
She is almost too big to trailer, but she is towable. This gives us the flexibility to jump to the best port for getting in on the best bites. The plan right now is to have her moored in Newport, Oregon for the spring halibut season, but then may end up in Florence for salmon, and Winchester Bay or Depoe Bay for tuna.
Her previous owners seemingly let her sit without any care, and we have painstakingly refurbished this vessel. It has been time consuming and gratifying to bring her back to her full glory.  We have updated the electronics package, seating arrangements, power system, and bait tank. We also added an eight man life raft, an EPIRB (electronic position indicating radio beacon) and inflatable life jackets for all on board.
The final product is an extremely safe vessel and a crew intimately familiar with her that is set up to be your Oregon fishing charter boat.
Our primary focus is tuna, but halibut, lingcod, rockfish, and salmon will be on the menu.